UO > About > Organizational Structure > Faculties & Institutes > Faculty of Arts > About > Organizational Structure > Departments & Centres > Department of Slavonic Studies
Jiří Muryc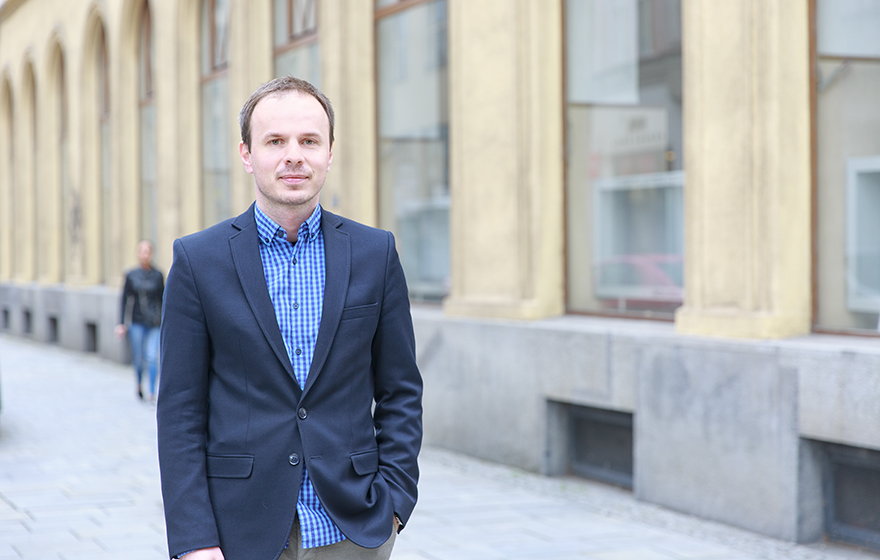 Academic degree, name, surname:
PhDr. Jiří Muryc, Ph.D.
Position:
Head of Department
Research interests and teaching:
Phone number, mobile:
+420 553 46 1840
No record found. Database Maintenance.
Szuster Anna
The language of civil law contracts in the Czech-Polish comparison based on corpus research
Szusciková Michaela
The Trials of Apollo - The Hidden Oracle. A comparative study of the Czech and the Polish translations
Šrajtrová Martina
A commented translation of short story by J. J. Szczepański Biskup jedzie przez morze
Tropek Martin
Evaluation Adjectives in Promotion Texts on the Website of Colours of Ostrava
Paruch Marta
The language of hip-hop culture in the Czech and Polish realities
Rozehnal Sopuchová Paulina
Translation of poems for children by Leszek Sulima Ciundziewicki into Czech language
Kantorová Marcela
Literary guide to Zaolzie
Losová Nikol
Sitcom Friends. A comparative study of the Czech and Polish translations
Włodowska Zuzana
Harry Potter and the Cursed Child. A comparative study of the Czech and the Polish translations
Iskra Adam
The issue of translating names in Polish and Czech language
Paprotová Helena
"Lubiewo" by Michał Witkowski and its Czech translations
Pułjan Dominika
Michal Viewegh's works in Polish translations
Bláha Petr
Czech image in contemporary polish literature in choosed examples
Kubala Martin
The Text Report Translation with Comments
Pająk Barbara
The Linguistic Situation in Silesia
Szpyrcová Renata
Czech translation of Andrzej Stasiuk´s art production. Evaluation and analyzing
Tomanová Radmila
Creation by Katarzyna Kotowska for children and adult readers
Orehek Tomáš
The role of multilingual people in the parishes of Zaolzie
Pacíková Urszula
The Highlight Focuses on Polish-Czech Audiovisual Translation
Fucimanová Markéta
Correspondence of Bruno Schulz
Holečková Andrea
National minorities in Poland
Jemelíková Valerie
Annotated translation of an expert text from the field of electronics
Pieczková Beáta
The selected terminology of the field of the czech and polish accounting
Rucká Lenka
Consecutive interpreting - theory and practice in the process of interpreting
Vepřeková Markéta
Theory and Practise of Translation - on the Example of Láska nebeská by Mariusz Szczygieł
Bartnicki Andrzej
Czech and Polish phraseology in business texts. A Comparative Study
Ciencialová Zdeňka
Present Polish Drama in the Czech Translations
Gawlasová Marie
Contemporary Polish prose in Czech translations
Hušák Viktor
Czech and Polish lexis and terminology of European Union. Comparative study
Kajfoszová Agata
Syntactic constructions in Czech and Polish - conformity and differences
Koždoňová Adriana
Language contacts and bilingualism - theory and practice
Mlynková Barbara
Multilingualism in Poland
Steblová Daniela
Multilingualism in the Czech republic
Súkeníková Monika
The issue of translation of proper names, names and other realities in the guides for the Czech Republic and Poland
Ciencialová Zdeňka
Czech - Polish Antagonism in the Press
Macečková Ivona
Polish literature of war as an instrument of Nazi crime
Vavrečka Matěj
Seven-day war on Cieszyn
Hořínková Adéla
Polish System of Education in Poland, Czech republic and USA
Ondruszová Tereza
Language Contacts in Czech-Polish Church Community
Kaletová Krystyna
History and Development Tendecies of Education System in Zaolzie Region
Plíhalová Lenka
Image of Poland in Czech Mass-media
Turoňová Kateřina
The Vocabulary of Czech and Polish Skilled Texts
Machowski Tomáš
Language and National Identity in the Cesky Tesin Region
Gaurová Janina
Translation of Kornel Filipowicz's Short Stories into Czech
Klusáčková Halina Laura
Małopolska - pearl of world heritage UNESCO
Kubinová Katarzyna Alicja
Architectural monuments in Ostrava
Drapa Petr
Bilingual nomenclature on railway lines in Zaolzie
Kobieluszová Beata
Vocabulary and bilingual dictionary of dance terminology
Konderlová Ingrid
Polish-Czech language interference in vocabulary.
Korzonek Karel
Architectural monuments in Karviná
Baron-Litwicka Agnieszka
Anglicisms in the Polish Language
Guzicki Włodzimierz
Historic Silver Mine in Tarnowskie Góry
Kutnohorská Markéta
UNESCO Monuments in Poland. Wooden Churches in Southern Małopolska
Pavezová Aneta
Architectural monuments in the Liberec region since the 19th century
Rozsypalová Edyta
Castle Hradec nad Moravici - history and present time
Žylová Lucie
The Vocabulary and Czech-Polish Dictionary of Internet Marketing
Bongilaj David
Prague - Historical City of UNESCO World Heritage
Gałuszka Krystian
Analysis of the Railway Market in Poland and the Czech Republic
Šrajtrová Martina
Comparative Analysis of the Occurrence of Profane Words in Czech and Polish
Herberová Miluše
The vocabulary and bilingual (polish-czech) dictionary from the hotel business
Krzywoňová Ester
Historical Monuments of Gdansk
Pierchalová Beata
UNESCO monuments in Poland
Švrčková Simona
Unesco sites in Moravia
Baronová Nela
Třebíč: Tourist Guide
Bernatík Werner
The role of Interfence in linguistic relations
Blachowski Marek
Architectural monuments of Orlová
Kaulfersová Dagmar
Smolensk crash over czech media
Vitasková Eva
Transport infrastructure in the Moravian-Siliesian Region
Wantuloková Barbara
Architectural monuments in Cieszyn
Włodowska Zuzana
Theory and Practice of Translation of a Nonfiction Text
Hutová Šárka
Czech-Polish cross-barder cooperation in the Euroregions example
Kaczmarczyková Teresa
Euroregion Silesia
Kramná Jana
Karviná - The Cosmopolitan City
Lanc David
The road infrastructure in Poland. History, current status and future
Polzerová Kristina
The tourism potential of Ustroń, Równica and Czantoria
Walachová Gražyna
Oldřichovice: History and the Present
Walek Benjamin
Czech and polish non- equivalent lexis. Comparative study
Bejdáková Kateřina
Polish-Czech language interference in ortography
Bláha Petr
Travel guide of Danzig
Blažejová Petra
A Comparison of Monument Preservation in the Czech Republic and in Poland
Brózdová Marie
Cultural Differences in Polish and Czech Cuisine
Bubová Lucie
Viniculture in Poland
Chalupová Gražyna
Activities of a Tourist Information Centres at Cieszyn Silesia Region
Fiálková Miroslava
Czech-polish vocabulary for optician's clients
Jasenská Barbora
Current polish lexicography
Jeřábková Nina
Albrechtice: History and the Present
Kolek Daniel
Polish Tatra Mountains
Konieczny Tomáš
Analysis of Telecommunication Market in the Czech Republic and Poland
Krutaková Jana
The history of tourism in Beskidy mountains at the turn of the last two centuries
Pająková Urszula
Jan Matejko - His Works and Contribution to Polish Fine Arts
Slowik Tomáš
Cieszyn Silesia Euroregion
Wanieczková Alexandra
Dolní Lutyně: History and the Present
Filuśová Renata
Havířov - The youngest town of the Czech republic
Janoušková Monika
The Vysočina Region - Tourist Guide
Kmecová Karina
Moravian-Silesian region
Kornutová Lenka
Apiculture in Poland
Ligocký Petr
National parks in Malopolska
Mrkvová Lucie
Tourist guide to Český Krumlov
Orehek Tomáš
Monuments of religious architecture in Poland
Pacíková Urszula
History and presence of Stonava
Vrbová Martina
Polish minority in Lithuania
Bednářová Alexandra
Selected Elements of Zakopane Folklore
Heinz Artur
Czech culture´s phenomenon in Poland
Kantorová Marcela
Bystrzyca: History and Present Time
Kubala Martin
Poznań and surroundings
Kubinčiaková Jitka
History of Education and Learning in Český Těšín Region
Pająk Barbara
Pilgrimage Tourism in Poland
Pieczková Beáta
Euro Implementation in the countries of European Union
Pierchalová Barbara
Karwina: not only a mining town
Rozehnal Sopuchová Paulina
Women in Contemporary Literature
Starzyková Žaneta
John Paul II
Sumega Aleš
Trzyniec and its Surroundings: The History and the Present
Šimaliaková Kristyna
The noble families of Teschen Silesia
Turoňová Pavlína
History and nowadays of Nydek
Bojda Alexandra
The Basic Vocabulary of Network Engineering in the Polish, Czech and English Language
Dědicová Michaela
Original Polish names of towns and villages and their Czech translations in the area of Tesin, Jablunkov, Karvina, Ostrava after the World War II
Filuś Roman
Sucha Górna guide
Halagačková Taťána
Translation of professional text with commentary THE EUROPEAN UNION
Hilová Teresa
City Orlová guide
Kožuchová Milada
Minortity of nationalities in Třinec
Kúdelová Barbara
Lednice and Valtice: touristic guide
Ligocká Bronislava
Spa Luhačovice
Martynek Zbigniew
Tourist potential of Silesia
Miech Marek
Contemporary Polish Literature in Czech Translation
Mizera Lukáš
Podhale: Guidebook
Solichová Libuše
The Role of the Interpreter of Intercultural Dialogue
Stejskalová Jitka
The Order of saint Hubert - history and the present
Wojnarová Eva
Analysis of selected banking services in the Czech Republic and Poland
Pochobradská Kristina
Polish National Minority in the Czech Republic