UO > About > Organizational Structure > Faculties & Institutes > Faculty of Arts > About > Organizational Structure > Departments & Centres > Department of Sociology
Nicole Horáková Hirschlerová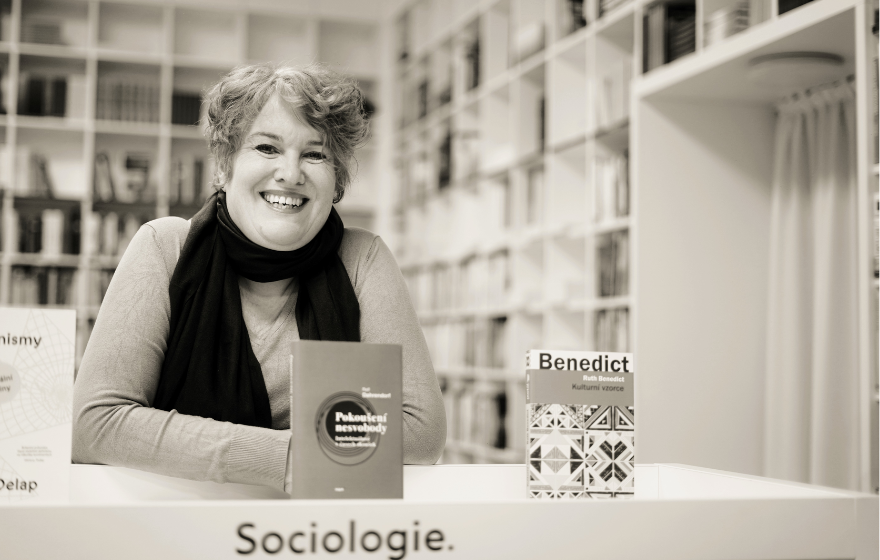 Academic degree, name, surname:
Dr. phil. Nicole Horáková Hirschlerová, M.A.
Position:
Deputy Head of Department
Research interests and teaching:
sociology of migration, civil society, history of sociology, sociology of the mass media
Phone number, mobile:
+420 553 46 1358
No record found. Database Maintenance.
Růžička Milan
Mutual Perception - Prejudices, Stereotypes, Cliches between Czechs and Germans Illustrated by Chosen Articles
Urbancová Lenka
The german language position in new member states of EU
Jelínková Alena
Islam in Germany: problems and chances of turks
Makovská Klára
STEREOTYPES.CLISHEE-PREJUDICES CZECH-GERMAN MOODS, BUILT ON THE BASE OF THE EMPIRIC MATERIAL
Polášková Jana
Czech-German relationship since year 1990: cooperation in cultural and youth organizations is used in German teaching
Divecká Klára
Studying during the Covid-19 pandemic: How do students studying teaching at the Faculty of Arts - University of Ostrava perceive online learning
Mecová Nikola
Socialization of children and youth in sport
Křížkovská Barbora
Women's football and its position in club structures on the example of the football club MFK Vítkovice
Mamaková Tereza
How do women on maternity leave perceive their current situation and their future return to work.
Šafránek Martin
Fenomenon of Mixed Martial Arts and its visitors
Taussigová Katrin
Interpersonal Relations on Campus at #MeToo: The Experience of Students of the University of Ostrava and the Technical University of Ostrava with (Sexual) Harassment
Kubíčková Karolína
How Do Young Women Deal with Unintended Pregnancy These Days?
Piškulová Eva
Integration of Homeless People into Society on the Example of Ostrava City
Ryšková Michaela
The influence of media hoaxes about migration on the opinion of generations X and Z
Škarpová Veronika
Homosexuals and their experience in dealing with society and their close ones
Bedáňová Barbara
Love and dating: Dating platforms of interner for long-term relationship
Jánošíková Aneta
Women's self-presentation on Instagram on the example of selected plus size models
Macková Apolena
Involvement of Ostrava inhabitants in the public space
Skowronková Aneta
Quantified Self: digital applications and the right lifestyle
Sýkorová Lucie
The phenomenon of tea rooms in the Czech republic
Bajtlová Markéta
Electronic Devices and Their Influence on the Upbringing of Children
Burkotová Tereza
Recreatial Activities of the Young in the Village and the City
Jurečková Denisa
The influence of social intelligence on working group
Gerlichová Michaela
Fast Fashion - phenomenon of our time
Jánová Michaela
The quality of life of elderly people in the rural region for example village Brantice-Radim
Jiříčková Alice
Punishment - prison and other alternatives of punishments
Moudrá Tereza
Consumerism and alternative consumer behavior
Mularčíková Pavlína
Migration and the refugee crisis in the Czech Republic
Muroňová Barbora
Formation and function of public opinion
Skalková Kristýna
Illegal migration in Czech Republic.
Terletska Anastasiia
The Mass Media and Power
Bakoš Pavel
Roma minority in the Czech society and examples of their successful integration.
Drozdek Ondřej
The term " class " by Karl Marx and his chosen followers
Dudášová Radka
Social situation of women in difficult period on the example of women in asylum house in Ostrava
Hnyluch Jan
Gambling as social pathological problem
Hoferik Michal
Ageing Society in Moravian-Silesian region: prognosis, consequences and necessary measures
Jeleń Daniel
Migration of Skilled Foreigners to Ostrava
Kempná Lucie
Economic abuse of retired people
Kurovský Filip
Area segregation: Excluded locations in Ostrava
Šustaiová Kristýna
Spatial segregation: Excluded localities in Ostrava
Tala Jakub
Construction of media reality through the coverage of refugee crisis example.
Gottvaldová Tereza
Mobile phone as a symbol of social status
Hlaváčová Renata
The status and inclusion of a homosexual minority in civil society in the country
Jandová Vladimíra
Moravská Ostrava versus Nová Karolína, dead centrum vs living centrum.
Lipowská Ivana
Beer and its role in Czech culture, with an emphasis on rituals and way of communication between people in a pub in the city of Karvina.
Opálková Věra
Influence of the internet on civil society
Řehová Alena
The status and importance of mother centers in the rural region on the example of the mother center in Jeseník
Glabazňová Cornélie
The Roma minority in the Czech education system as an example of primary schools
Kramárová Nikola
Lobbying in Czech republic
Maděrová Lenka
Internet as a media outlet for non-profit organizations
Meyer Jan
Sociological characteristic of ultra left wing organizations in Federal Republic of Germany
Něničková Erika
Forms donation in the nonprofit sector.
Netočná Anežka
Image and formation of a civil society in Czechoslovakia and Czech republic after 1989
Nováčková Marie
Roma community in Czech educational system on basic of the high school
Řezníčková Radka
Media and terrorism
Zemanová Petra
School age children and world of internet: Are our children safe in today
Kořenková Johana
Economy and Aristocracy. Economic Development of the Town Karviná and the Role of the House of Larisch-Mönnich
Kotisová Martina
Like Au-pair in german-speaking foreing countries: establishments, legislations, experiences
Bajgerová Kateřina
From coal-fields to Hi-Tech and cultural places: Restructuring of Ruhrland as an example for Ostrava?
Hazová Vlasta
Intercultural skills: On the role of history, culture and civilization in the degree course "Business german"
Kocourková Marcela
German foundations in the Czech Republic: Their involvement, goals, and importance in relation to German-Czech understanding
Lacinová Miriam
Foreign Workers - Asylum Seekers - Expatries: Foreigners in Germany
Marcinková Eva
Czech-German relations:yesterday-today-tomorrow
Oškerová Daniela
Integrated Europe: Euroregion, and Its Significance with Special Respect to the Euroregion of Silesia
Velhartická Iva
Germans in abroad - vocation - deportation - repatriation, Germans in Russia and Soviet Union