UO > About > Organizational Structure > Faculties & Institutes > Faculty of Arts > About > Organizational Structure > Departments & Centres > Department of Sociology
Marek Schneider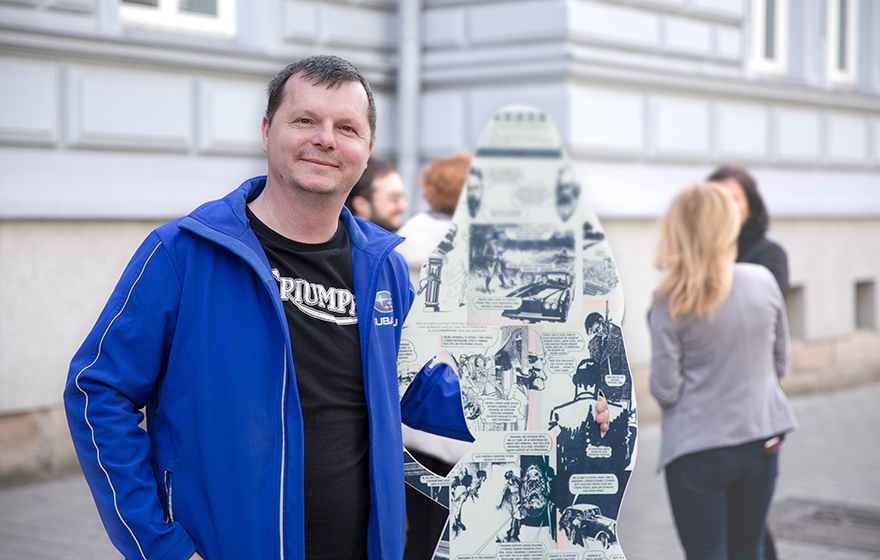 Academic degree, name, surname:
PhDr. Marek Schneider, Ph.D.
Research interests and teaching:
non-profit sector management, negotiations, public relations in NGO
Phone number, mobile:
+420 553 46 1354
No record found. Database Maintenance.
Raček Martin
Educating of social workers of social departments
Solichová Lenka
Divorce and its impact on a child
Boruňová Sylvie
Work motivation of employees in retirements homes
Hurníková Šárka
The Motivation for Lifelong Learning for Social Workers
Pavinská Karin
Personnel work in organizations of social services
Běčáková Barbora
Issues of Individual Planning in Long-stay Facilities for Senior Citizens
Bednářová Alena
Incorporating people with disabilities in to working process
Koloničná Michaela
Low-threshold Facilities for Children and Young People as a Base to Fulfil the Social Needs of Their Clients
Ondrašinová Hana
Problems with the Application of Animal-Assisted Therapy in Institutions Providing Care of People with Special Needs.
Pešková Dorota
Quality of social services in senior housing from the viewpoint employees of the facility.
Ševčíková Šárka
Analysis of Adaptation Process in Company
Ševčíková Tereza
Application of quality standards for social service half -way house
Vávrová Pavlína
Educational requirements of employees in social services institution caring for seniors depending on Quality standards
Dyrdová Marcela
Realisation of services for social prevention for families with children within the specified locality
Horklová Hana
Social Service For Romany Ethnic Group Integration
Kochová Jiřina
Professional Education of Social Workers in the Moravian-Silesian Region
Korbelová Petra
Influence of work climate on work performance of employees social departments in Ostrava
Palgutová Lucia
Analysis of Personnel Activities
Segradová Michaela
Aducation systems of social workers
Krkošková Daniela
Public Service Institution and it's Incorporation into the System of Benefits in Material Need.
Mayerová Jana
Personnel standards and professional development of employees of aged-persons homes
Pastrňáková Zuzana
Activation of social services for socially disadvantaged families with children
Pecina Jiří
THE ANALYSIS OF THE EDUCATION SYSTEM OF THE CZECH CUSTOMS ADMINISTRATION
Pinkavová Jana
THE PRACTICE IN THE COMMUNITY PLANNING OF SOCIAL SERVICES THE SAME SIZE CITIES
Podaná Veronika
The effects of hippotherapy within the comprehensive rehabilitation of people with disabilities
Řezníková Jitka
Role of Social Worker in Asylum Centre for Women and Mothers with Children
Schreinzerová Monika
Educational influence a and educational working correction center by girls with disorders in behavior
Sikora Tomáš
Application of an alternative punishment house arrest
Tomaštíková Dagmar
The Analysis of the selected Standards of Quality of the social Services inside in social Care for homebound elderly in the Region of Jesenicko
Vysoudilová Lucie
Employee contentment, company culture and social climate within chosen organization
Dluhošová Martina
The implementing of standards of social services´ quality in the old people´s home
Gallová Petra
The Method of the assessment centers as one of the options to select employees for the area of a social work with seniors
Gonsková Iva
The importance and use of canistherapy in taking care of seniors
Mžiková Martina
Dealing with people interested in social service with mentally affected people.
Schindlerová Monika
Utilization mediation on the family conflicts situation especially on the controversy in legal protection of children
Čaníková Radka
Development of social services, possibilities and effectiveness of methodology used to strategic planning
Drijáková Irena
The Conception Development of the Benefits of the Social Security in the Czech Republic.
Houdková Ludmila
Barrier Removing of Business Team Development
Kajfoszová Karolina
Low-treshold facilities for children and teenagers and their role in free time and as a prevention of problem behaviours in young people
Karbulová Kateřina
Work atmosphere
Kýr Jakub
Effects of using manipulating techniques in masmedias
Müllerová Jana
Comparisons fruitfulness community plans according to a special methodology
Vašíčková Pavla
Practical working experience of social work students
Karmazinová Naďa
Community work and care for persons with mental handicap.
Návratová Jana
Change of social conditions perceived by people with spinal cord injuries
Pěkník Václav
Inhabitants of Frýdek-Místek district and their relationship to foreigners and refugee problem.
Poláková Radka
Preservation of seniors´ mental condition by the help of memory training
Semelová Marie
Alternative Upbringing a Child's Eye
Vyletělková Veronika
The canistherapy action on the mentally affected children.
Karpielová Marta
Quality of social services in the region of Zlin in rest homes from the view of procedural standards
Kavečková Simona
Analysis of social services for seniors in town Hranice
Kožuská Věra
Community planning of social services in practice of small and large town
Krušinová Alena
The process of community social planning in Krnov and this confrontation with the community social planning in Bruntál
Pohnerová Diana
Accompanying and social help for the caring and survivors
Procházková Jitka
Community planning social services in the Moravian-Silesian Region
Chalupová Radana
The role of the social worker in a medical institution
Čechová Františka
Employees working satisfaction in choice arrangements for seniors in Opava
Kurka Pavel
The occurrence of the socially pathological phenomenon of domestic violence in Ostrava
Petrovská Igari Eva
The problems of social work with prison person kept in prison with a specialisation in adolescents and young people
Pšenicová Taťána
Social hospitalization as one of the possibilities of social care
Svobodová Sandra
Options and Barriers of People with Hearing Impairment in Social Services and Leisure Time Activities
Šimečková Magdalena
Pet assisted therapy in senior services
Chalupová Julie
Social Media as a Tool for Bullying
Matějová Adéla
Evaluation of workers and influence on their work performance
Dubová Karolína
Job satisfaction of employees depending on the size of the company
Milerski Marek
Settlement structure in the Třinec microregion
Juřičková Aneta
Communication flows and structure of student communication with the University of Ostrava
Kupčáková Šárka
Reflection of generational structure in corporate culture
Ohanková Daniela
Social audit focused on employee satisfaction in the company
Račanská Martina
Social climate in organizations
Chaloupková Jana
Impact of staff appraisals on their work performance
Hrabovská Eva
Employee benefits and their impact on loyalty and motivation of employees
Kalusová Karolína
Reintegration and resocialization of offenders released from imprisonment
Cigánová Michaela
Attitudes Of Youth To Individual And Collective Sports
Rojíčková Vendula
The Attitudes of High School Students to People with Disabilities
Světnická Kristýna
Manipulation through advertising
Tomanová Nikola
Extreme Hurdle Races as a Social Phenomenon
Václavíková Kristýna
Job satisfaction of the employees at schools
Červinková Hana
Human resources management: Implementation of Compliance
Fábry Marek
Working environment of an organization
Kučerová Martina
Intercultural barriers in supranational companies
Dimitrovová Pavlína
Differentiation of education among employees of the Czech Social Security Administration and their motivation to increase education
Komárková Olga
Human resource management in selected organization.
Měřínský Jakub
Working motivation of prison administration´s employees
Mikulecká Lenka
Factors which have influences for job satisfaction of employees in financial office for Moravian-Silesian region
Strakošová Michaela
* Motivational Factors Affecting Job Performance of Municipal Authoritie´s Employees
Šařecová Gabriela
Using of PR tools at the communication strategy of hospital Havířov
Vácová Jitka
Strategy of municipality human resources management
Kurková Petra
Human resources management in social work organizations.
Martínková Jana
Project of education of social workers and social workers services operating in non-profit organizations focused on the mentally ill.
Pouchlá Lenka
The use of methods brief coaching in an environment of non-profit organizations
Pyrochtová Naděžda
Social audit as a method of determining employee satisfaction in a chosen organization
Widenka Janusz
Public relations religious nonprofit organizations.
Charuza Radek
Creating a business plan and strategic planning in nonprofit organizations
Hložková Jarmila
Personnel activities in the area of profit and non-profit organizations
Indiková Šárka
Education of employees at Employer´s agency
Klímová Hana
Business ethics performance in social services worker
Kučerová Kateřina
The Probation and Mediation Service of the Czech Republic
Rutková Hana
System of education of fiscal administration employees
Wyrwolová Marie
Application of modern methods of strategic management in public sector organization
Zalotěnková Michala
Factors influencing work climate in nonprofit organizations
Červená Iveta
Advantages and risks of the alternative sentences
Gavlasová Hana
Memory training with seniors with cognitive impairment
Gryczová Kateřina
Strategy planning of social services using Balanced Scorecard methods
Kotrlová Zuzana
The change in the contents of work for the employees in direct care at the home for the elderly after the introduction of the law on social services.
Ondruchová Weronika
Body Image of People with Disabilities
Raček Martin
Education programs for workers of social services in Bohumin
Samešová Tereza
Working climate of social services organizations
Tajchmanová Jana
Seniors Activation Using Memory Training
Wunschová Kateřina
Leisure activities for seniors
Žižlavská Kristýna
Canistherapy and hippotherapy as therapeutic methods
Ďurčo Roman
Quality Standards for Social Services: Caring for the elderly in social and natural enviroment.
Moučková Denisa
The System of Education of the Labor Office in the Czech Republic
Musilová Alžběta
Supported Employment for People with Mental Health Issues in Ostrava
Nevolová Silvie
The social services system for senior people in the city of Ostrava
Quisová Alena
System of social help to citizens with health disability
Trchalíková Jarmila
The education systems of social workers in the Czech republic
Chmielová Taťána
The factors which influences work of employees in social services
Dorazilová Renáta
Consultancy in services for seniors
Dorničák Jan
Benefits of quality standards for users of asylum homes
Liszoková Pavla
Company Employee Satisfaction Survey
Slezáková Veronika
Social work and priorities for further development in the field of social services for seniors
Svačinová Alice
The specifics of the social care
Szotkowská Vlasta
Particular planning in Rest Home
Boruňová Sylvie
The process of social services quality standards implementation in old people´s homes
Dršťáková Věra
The impact of the quality standards on the education of social services workers and their approach to the clients in residential establishments.
Hlaváčová Karolína
Education systems for volunteers working in leisure centres
Kuffová Gabriela
Field services of social welfare with orientation to senior citizens as a final group of users
Ondrašinová Hana
An Application of Animal-Assisted Therapy in the Care for People with Special Needs
Pavinská Karin
Social inclusion of peoples with dementia in residential care
Šamajová Jana
The education systems of workers in a social sphere
Vilimová Martina
The measurable criteria for the classification of high quality social services
Jachanová Martina
Migration and asylum in Czech Republic in connection with international contract
Korbelová Petra
The selection of workers - methods of personnel work and assessment centre
Pastrňáková Zuzana
Animal Assisted Therapy in the Context of Social Work with a View to Canistherapy and Felinotherapy
Podaná Veronika
Animal assisted therapy in the context of social work (focus on hipotherapy and dolphin therapy)
Švábová Zuzana
Cruelty to seniors in home care in the Moravskoslezský region.
Žižková Lucie
Recruitmen working profil
Gonsková Iva
The benefit of dog therapy in handicapped people´s treatment
Havlová Lenka
Training of special communication and trade skills - e-learning
Hajdová Jana
Možnosti sociálních služeb pro osoby bez přístřeší na příkladu Irska
Karkošková Renáta
The persuade strategies of advertising
Karmazinová Naďa
Social services for persons with mental handicap
Krpcová Michaela
Cub women in haevy life situations postneuritic unplanned pregnacy
Kýr Jakub
The analysis of the techniques of manipulation communication in mass medias
Matějíčná Veronika
Social care of citizens with visual handicaps
Pěkník Václav
A view on the old age in relation to life satisfaction in rest home
Píštěková Irena
Satisfaction of the clients in the rest homes in the Prerov region
Poláková Radka
System of Social Services for Handicapped Children and Youth in Ostrava
Ščibravá Markéta
The comparison of the needs of clientship requiring ambulatory and residential facilities in Moravian-Silesian region
Main solver
PhDr. Marek Schneider, Ph.D.