UO > About > Organizational Structure > Faculties & Institutes > Faculty of Arts > About > Organizational Structure > Departments & Centres > Department of Philosophy
Zdeňka Kalnická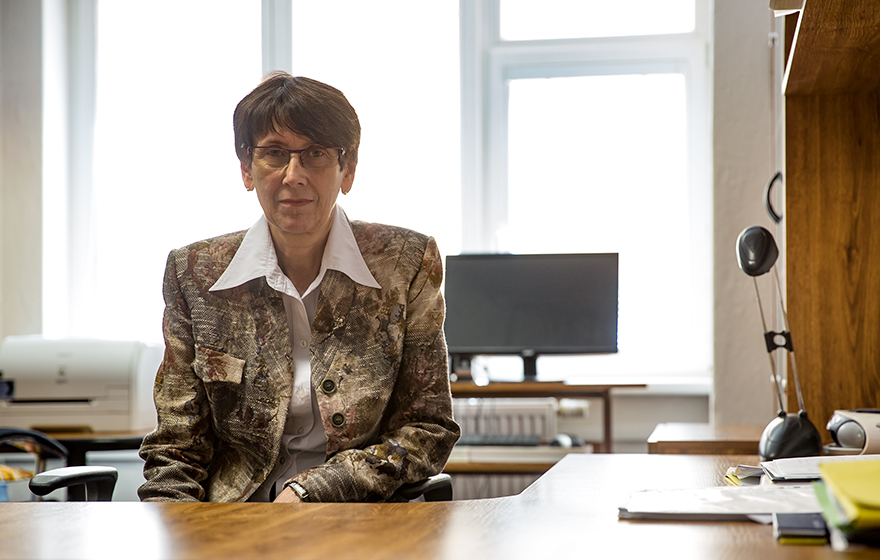 Academic degree, name, surname:
prof. PhDr. Zdeňka Kalnická, CSc.
Research interests and teaching:
aesthetics, contemporary philosophy, interpretation of artworks
Phone number, mobile:
+420 553 46 1825
No record found. Database Maintenance.
Kalitová Kristina
The Theory of Social Justice in the Age of Globalization
Rzymanková Andrea
Women on the battlefields of World War II
Čápová Martina
The Concept Écriture Féminine of Héléne Cixous
Ruth David
The Philosopher as Poet
Brožová Nikola
Karel Čapek ? between art and philosophy
Hronovský Michal
Czech philosophy and feminism in the last century or life on the edge.
Zubatá Vendula
Woman as Image, Images of Woman
Křížková Ivana
Unknown territory of the Czechoslovak philosophy: Mária Štechová
Černajová Vladimíra
The current presentation of the female body and its cultural and philosophical context
Šurkala Marek
Idea of Humanity in Documentary Photography
Hrabec Tomáš
Searching for Archetypes in Works of Jáchym Topol
Stejskalová Kateřina
Works of Lucie Lomová by gender aspect
Vašková Martina
Interpretation in 20th. Century. Feminist interpretation of The Taming of the Shrew.
Kočicová Zuzana
The Philosophical Relationship of J. P. Sartre and S. de Beauvoir
Basovníková Petra
Philosophical Partnership of Simone deBeauvoir and Jean-Paul Sartre.
Bruštíková Špidlová Martina
Philosophy of Simone Weil
Krochmalný Ondřej
Dust on the ruins (historical image, estethics of melancholy and metaphore in the work of Walter Benjamin)
Škrobánková Kristina
Motherhood; To be a woman means to be a mother?
Kachlíková Tereza
Jiřina Popelová - Significant Personality of Czech Philosophy
Kalitová Kristina
Nancy Fraser´s theory of global justice
Lazecká Zuzana
Witch Processes on Jesenicko and Šumpersko (Gendrer Aspect)
Nováková Hana
Albína Dratvova, the first czech philosopher
Řeháková Andrea
Gender aspects in work of Virginia Woolf
Benešová Jana
Some aspects of witch-hunting in the world
Ticháčková Zuzana
Philosophical text and metaphor at Anna Pammrova
Tůmová Karolína
Architecture and philosophical aspects
Vrátná Denisa
Gender aspects of advertising
Pavelec Rostislav
Pornography: definition, historical development and contemporary discussion
Grznárová Martina
Karel Teige and his conceptions
Hronovský Michal
Defending Women´s Rights in the Age of Enlightenment
Kaplanová Iveta
Philosophical counseling
Žurková Žaneta
Philosophers Jiřina Popelová and Josef Tvrdý: Philosophy of History
Matyščáková Jana
Domestic violence against woman and non-profit organizations
Dubšíková Michaela
Women´s Movement in England at the Beginning of the 20th century
Hradilíková Monika
The women in Parliament in Czech countries - the historical evolution
Maralíková Blanka
Concept of the beauty in antique
Basovníková Petra
The home violence upon women
Řeháková Andrea
Phenomenon of violation
Main solver
prof. PhDr. Zdeňka Kalnická, CSc.
Provider
Ostatní projekty EU
Main solver
prof. PhDr. Zdeňka Kalnická, CSc.
Provider
Specifický VŠ výzkum
Main solver
prof. PhDr. Zdeňka Kalnická, CSc.
Provider
Standardní projekt GA ČR